The BRIGHTS project was successfully presented by ALL DIGITAL at the Symposium "Connecting the Dots: Young People, Social Inclusion and Digitalisation" organized by the EU-CoE youth partnership on 26-28 June 2018 in Tallinn, Estonia.
The 2018 Symposium of the EU-CoE youth partnership focused on exploring the intersection between social inclusion of young people and digitalisation, reflecting especially on how digitalisation affects young people's lives, and what the role of youth policy, youth work and youth research can be in this respect. Firstly, the Symposium was articulated around young people's lives, experiences and how digitalisation has an impact on them, especially in relation to young people's social inclusion. The thematic focus of the Symposium was on how social inclusion of young people is or can be affected by digitalisation on questions such as:
Access to services, youth-friendly services, services for social inclusion;
Reaching out to young people and the digital divide;
Resilience and empowerment for social inclusion;
Discrimination in the digital space, hate speech, cyber-bullying and harassment.
The Symposium also marked the celebration of the 20th anniversary of the EU-CoE youth partnership, and was organised in cooperation with the Youth Affairs Department of the Ministry of Education and Research of Estonia.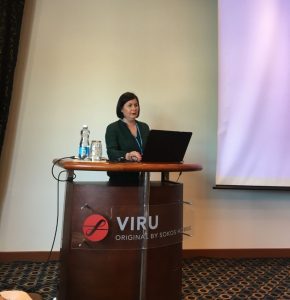 Barbara Quarta, BRIGHTS project coordinator at ALL DIGITAL, had the opportunity to present the BRIGHTS project results during the interactive workshop on "Combating discrimination in the digital space, hate speech, cyber-bullying and harassment" which was held on 27 of June. The project was also promoted through copies of project leaflets and the BRIGHTS Info Kit on Global Citizenship Education distributed to the participants. Moreover, BRIGHTS, was included in the Compendium of Practices published by EU-CoE youth Partnership.
The Symposium gathered 120 youth policy makers, researchers, practitioners from youth NGOs and youth work from across the signatory states of the European Cultural Convention, as well as actors from the digital field, that, through their work, combat inequalities.
The Symposium was a mutually beneficial learning and updating opportunity for those involved. Through this event, ideas about the role of the youth sector in relation to digitalisation were explored and different approaches to digitalisation were shared. Key messages for a future agenda for the youth sector in relation to the intersections of digitalisation and social inclusion were elaborated and they will serve the youth field as inspiration for further action.