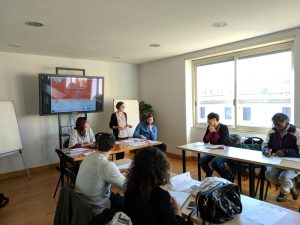 Università degli Studi Guglielmo Marconi and Centro Studi Città di Foligno have jointly organized a focus group to discuss the BRIGHTS results and the Policy Recommendation with a group of stakeholders. The event has been held at Marconi University premises on December 17th, 2018 and representatives from school, higher education, associations and study centres actively took part in the debate on global citizenship in formal and non-formal training. During the event Ms Sara Cella and Ms Federica Funghi from Marconi University presented the BRIGHTS project and explained it was funded in the framework of the Erasmus+ Programme and especially under the Key Action 3 which is aimed at stimulating innovative policy development and  social inclusion. They introduced the project's objectives and results, by explaining the comprehensive training process and the target groups achieved. They focused on the two pillars of the project: the Global Citizenship Education and the Digital Storytelling and they highlighted the potential of digital storytelling to deal with global issues through personal stories and experiences. They finally presented the 4 winning stories created by teachers and youngsters in the four partner countries (Italy, Croatia, Greece, Belgium). The exhibition of the stories was very appreciated by the audience and gave the chance the discuss on other participative and constructive approaches directly  experimented by the participants of the focus group. Afterwards, Mr Luca Pagliaricci, representative of Centro Studi Città di Foligno, the Italian partner involved in the experimentation phase, explained the Policy Recommendation document and reported about his tutoring experience with the Italian teachers and trainers. He recommended some good practices to be considered during the organization of the course and highlighted the main criticalities encountered.
Main findings from the discussion include the urgency to equip University students with the essential skills to tackle Global Citizenship issues and main cutting-edge challenges. If a set of initiatives have been conducted at primary and secondary schools, the academic world seems to be distant from this theme.
The participants conveyed on the need to find a proper space to include Global Citizenship Education in both formal and non-formal training and they proposed to connect it with the work-linked training.
The participants expressed also their interest to benefit from the BRIGHTS online course in order to increase their competences on global education and digital education.
Finally, following some questions by the participants, the debate also focused on licences and copyright issues, which is a sensitive subject for those who create and share their stories and for those who benefit from them