The MOOC "Addressing Global Citizenship Education through Digital Storytelling" provides cutting-edge training in a constructive and participatory way. It has been developed in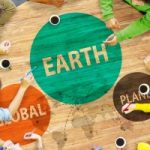 the framework of the European project BRIGHTS , co-funded by the Erasmus+ Programme of the European Union. The MOOC contents and platform have been developed by Maks vzw, Guglielmo Marconi University and Hellenic Open University under the coordination of All Digital from Belgium.
The BRIGHTS MOOC will be delivered in Belgium, Croatia, Greece and Italy by the following organisations:
During this 4-week online course, trainees will gain a thorough understanding of how to design and apply the Story Circle Methodology to implement Global Citizenship Education (GCE) using Digital Storytelling (DS) technique with young people both in schools and in non-formal educational contexts. The MOOC responds to crucial training needs that are emerging among young people, such as intercultural and cross-cultural skills, critical thinking, collaborative and project-based learning, creativity and digital literacy. Course participants will acquire the knowledge needed to meet the global challenges emerging in contemporary society, including sustainable development and lifestyle, social inclusion and cultural diversity, gender equality, peace and human rights, active citizenship and democracy, and learn how to engage young people in the production of digital stories on these challenges. 
Read more about the BRIGHTS MOOC here!