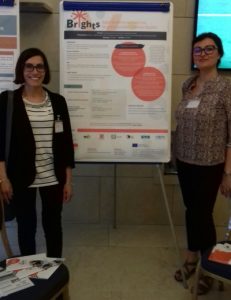 BRIGHTS Project participated in the 8th edition of the international conference "The Future of Education" organized by PIXEL in Florence on June, 28-29 2018. The purpose of the event was to foster international cooperation and share good practices in the field of innovative education. The conference gathered around 200 participants, including teachers, researchers, practitioners and project managers from around the world to share their expertise and knowledge about innovative teaching and learning. The conference represented an excellent opportunity to illustrate previous and current projects' results on education and training with a focus on social inclusion, multiculturalism, e-learning, Science education and strategies for effective learning.
BRIGHTS visibility and valorization were ensured thanks to a combined effort by Federica Funghi and Sara Cella from Università degli Studi Guglielmo Marconi and Vicky Maratou from Hellenic Open University who presented the project by showing a specific project poster and giving a speech on the BRIGHTS MOOC.  In particular, the BRIGHTS poster offered an overview of the entire project process, by presenting its objectives, the target groups, the main components and the topical steps.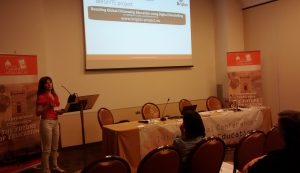 Conference participants expressed their interest and curiosity for digital storytelling and took informative materials to follow project's developments. Mrs Maratou's presentation was held during a session specifically focused on "e-Learning" where she had the opportunity to introduce the project and explain the MOOC structure and main features. She presented the online platform by showing the course syllabus, the learning outcomes divided per module and the main pages of the MOOC, especially the homepage, the forum, the unit pages with the educational material. Finally she presented evaluation results from the pre-testing and post-testing online survey  highlighting learners' expectation on the MOOC, mainly in Greece, as well as the positive impact reached after the pilot experimentation. The audience expressed their interest in registering and attending the BRIGHTS MOOC in case new opening of the course  is going to be scheduled in the near future.